Ideal for engineering and jewelry applications, the FabPro 1000 excels at low-volume, small-part prototyping and direct 3D production across a wide range of high-quality materials.
Produce models in hours, not days. Compared to competing systems, the FabPro 1000 can create higher-quality parts with precision and smooth finish at up to three-times-faster high-throughput print speeds. It's all in the technology:
Digital Light Printing (DLP) Stereolithography uses a projector to image each layer within a UV-curable, liquid material.
Layer thickness from 30 – 50 micron offers superior edge detail, accuracy and surface finish.
And with a build size of 125 x 70 x 120 mm  (4.92 x 2.76 x 4.72 in), the FabPro 1000 is able to produce larger parts faster—or several smaller parts at once to generate multiple iterations simultaneously.

Speed and Productivity Comparison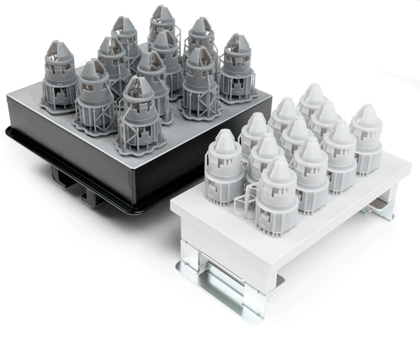 Using DLP technology the FabPro 1000 uses a projector to image each layer for easy and precise printing, with the ability to build several smaller parts on a single platform for increased productivity. Compare the same part file printed on a full platform at 50 microns to a competitive entry-level system:
FabPro 1000 Print Time: 2.5 hours Competitive Entry-Level SLA Print Time: 10 hours
Lower Costs, Delivered
The FabPro 1000 is engineered for material efficiency and consistent, repeatable runtimes, making 3D prototyping and production more accessible and affordable than ever before. 3D Sprint file preparation and print management software helps manage material usage with less waste with optimized print builds and support structures. This combination of fast print speeds and optimized printing all leads to lower part costs and lower Total Cost of Operations (TCO).
Industrial Strength with Start-to-Finish Simplicity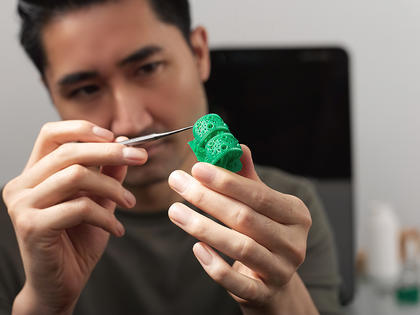 This entry-level powerhouse packs industrial durability and reliability into a rugged yet compact platform, delivering professional quality day in and day out. It's also simple to use – from setup, material loading and file configuration to post-processing, cleaning and maintenance:
No special training or certification is required due to an intuitive design and easy-access print chamber.
Replacing print trays and switching materials is a snap.
Post-processing is seamless with an included finishing kit, and optional light-based LC-3DPrint Box UV post-curing unit for required cleaning and curing.