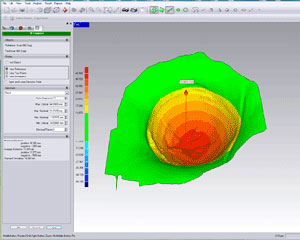 Geomagic Control (formerly known as Geomagic Qualify®) is the industry's most comprehensive, robust and accurate 3D metrology solution and automation platform.
Geomagic Control delivers the highest accuracy, speed and comprehensive, automated reporting on the quality of as-built parts for first-article inspection, production inspection, and supplier management using CMM and laser scanning tools. The software delivers CAD importer tools and airfoil analysis at no charge to help manufacturers rapidly increase product and manufacturing quality, identify process issues and build productivity. Advanced GD&T, probing and dimensional inspection functions enable fast and precise measurement of parts, and Geomagic Qualify includes intelligent creation of reports in 3D PDF.
The Geomagic Control Automation Platform delivers the power to streamline almost every process, reduce human interaction in measurements and recording, decrease measuring time, and markedly enhance R&R results. Geomagic Control customers can dramatically cut production line downtime, increase accuracy and improve part quality during and after manufacturing.